Message from the Superintendent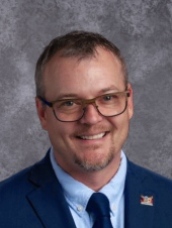 My name is Ryan Middleton and I am honored to be the Jac-Cen-Del Community School Corporation Superintendent. Here at Jac-Cen-Del we are supported by a wonderful community that supports our school buildings and its students. Every day that I have the opportunity to walk the halls of our two buildings, I am reminded why I have chosen this profession. We have incredibly caring and giving teachers that educate our students to become life-long learners and to give back to the communities in which they live.
We have an unbelievable staff that sincerely educates and cares after every student. From every faculty and staff member we ensure that our students' needs are met. This can be seen when I have the opportunity to see your son(s) and/or daughter(s) and even grandchildren work through problems with real-world applications. I have watched as a group of students build projects together and become excited to approach every scenario differently.
What I ultimately see, is our corporation working as one to ensure that every student succeeds, every day. This cannot be done without corporation and community support. The administration wants to thank you all for being an integral part of this equation. I look forward to serving this school corporation and the community with my leadership and guidance as we continue moving forward with education.

In Education,



Ryan Middleton